TraceCORONA App is now ready for beta testing phase!
Join and support our research as a Beta Tester of the TraceCORONA App
You can participate as a beta tester and get a first impression of the fully functional version of the TraceCORONA Contact Tracing solution. By doing this you can support our research for developing secure and privacy-preserving technologies for anonymous tracing apps that can help medical professionals to fight the COVID-19 pandemic efficiently. We hope you are as excited as we are! Please read the instructions below or directly go to get the app:
NEW: Updated App Version 1.8 Beta released on 2020-06-06!
Important Note: The TraceCORONA App is currently beta software. It means that it still needs to be tested on a larger scale. While we have spent great effort in trying to ensure the correctness of the app's functionality, it is still possible that you may experience some bugs. No beta app is perfect! In case you identify any problems or errors with the app, we would appreciate if you could provide your feedback to us. Your help is very much appreciated!
Note also that this beta test focuses solely on the tracing functionality of the TraceCORONA platform, in order to get feedback about it from the community. Other aspects around the supplemental services of the pandemic information platform will be addressed in a subsequent release.
What do You need to use the App?
To be able to test and use the app, you need the following:
Android OS is required for now
Currently, the TraceCORONA App runs on the Android platform (We are planning to provide an iOS version as well later). In order to test the App, you will consequently need a smartphone running the Android operating system (starting from API level 21, i.e., Android v. 5.0). We have already tested TraceCORONA on a number of smartphone models as listed here, but it should work on other models, too. In case you encounter problems, please contact us through the feedback form, or by e-mail to techsupport@tracecorona.net so we may be able to assist you.
Your device must support Bluetooth LE
TraceCORONA App uses the Bluetooth LE proximity communication protocol to determine whether there are other devices with TraceCORONA in its proximity. The device running TraceCORONA App must therefore support the Bluetooth LE protocol, which is available on most recent smartphones.
Downloading and installing the TraceCORONA App
Below we will explain step-by-step how to obtain the TraceCORONA application package.
Download and install the App using below link.
1. Swiping down your notifications you will find the downloaded file which you can install by clicking on the file name.

2. You will be prompted to allow application installation from an unknown source (since you are not installing the app from the Google Play store). Tap "Settings" to proceed.
3. Tap "Allow from this source" this request to allow for the installation to proceed and tap the arrow left to go back.
4. Tap "Install" to install the application.
Now the App is installed and you can open it by clicking on its icon.
Starting the App

To get started, you just need to push the "Start Tracing" button. The app will then request for following additional permissions it needs for performing successful tracing: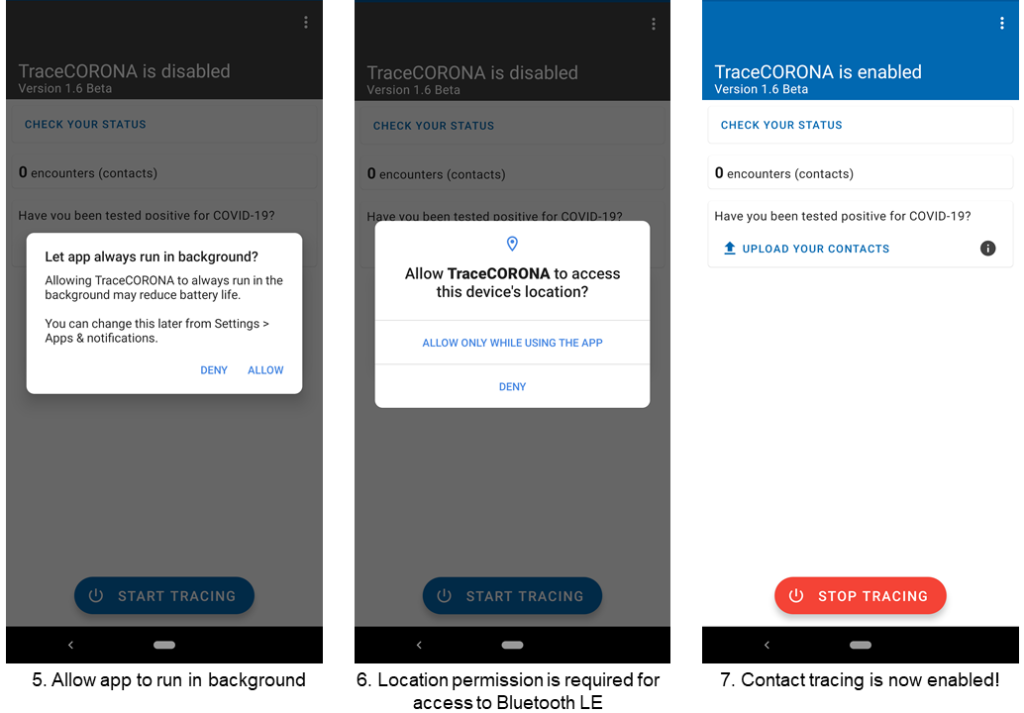 5. Let app always run in background: the app must keep on running in background to perform tracing. This means that battery saving is disabled for this app.
6. Location: On Android, apps using Bluetooth LE for device discovery need this permission to be able to scan and detect other devices in your proximity. NOTE: TraceCORONA does NOT observe nor record your actual location at anytime.
7. Now you are good to go, the TraceCORONA App is performing contact tracing!
For technical support, please contact techsupport@tracecorona.net
You can also follow us on Twitter: @tracecoronaapp
Testing the App functionality
After successful installation of the App, you can start testing the tracing functionality. As encounters are only created between two devices running the TraceCORONA App, the App should be installed on at least two different devices that are from time to time in mutual proximity.
Note: Always follow caution and strictly abide by the social distancing measures as mandated or recommended by your local authorities!
For a detailed description of the TraceCORONA User Interface and some test cases please see here.
Disclaimer
The TraceCORONA App is still under development and can consequently contain bugs and programming errors. While we have tried our best to eliminate errors in the programme code and implement our design in a secure and safe manner, we cannot guarantee the absence of errors or correctness of the functionality of the app in all situations. If you decide to install and use the app, please be aware that you do so at your own risk. We won't be able to carry liability for any damages arising from the use of the app.